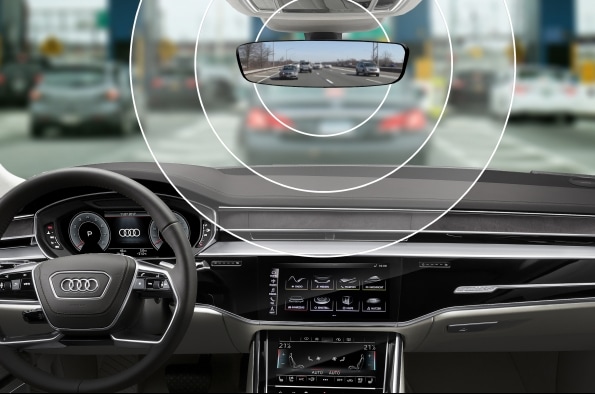 Here at Audi of Huntington, we understand drivers. We know that people want to get behind the wheel of a vehicle that they feel comfortable in. That's why we're proud to offer some of the best Audi deals in the Huntington Station, NY area. Audi continues to raise the bar with its vehicles and innovations. Recently, the brand announced that it is set to introduce the world to its Integrated Toll Module (ITM), a feature designed to eliminate the hassles associated with toll roads.
Tolls are scattered around the state here in New York. If you're driving and don't have any cash, or you're not prepared with an electronic prepay card, running into a toll booth can be an expensive occurrence. You could end up getting a traffic ticket and injuring your driving record.
Audi understands that drivers want and need convenience. The brand's all-new e-tron SUV features an integrated ITM system in the rearview mirror. Drivers can take care of their toll fees without having to fumble around with change or worry about a physical transponder.
The ITM will be compatible with select toll roads in Canada and the U.S. It can be controlled through the vehicle's infotainment system; you can select your options by using the touchscreen multimedia display.
If you want to drive a luxurious vehicle, keep the upcoming Audi e-tron in mind, a battery-electric SUV. In the meantime, come on down to our Audi car dealership near Long Island to check out our current inventory of new and pre-owned Audi models. We're conveniently located at 363 E. Jericho Turnpike.
The Audi brand will introduce the world to the e-tron in late September; production has already started, so expect to see it soon!