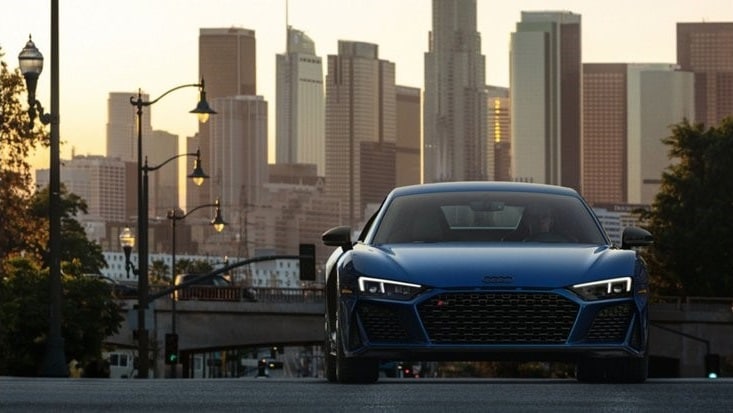 There is nothing like sitting behind the wheel of a luxury performance vehicle, and at Audi of Huntington, you can find just that. We are an Audi dealer that is passionate about vehicles that don't hesitate when it comes to speed and offer a premium interior experience. While there are many vehicles in our showroom that fit that description, it is difficult not to mention the new 2020 Audi R8.
The Audi R8 has always been an iconic model in the Audi family line-up. The supercar has been recognized at the top of many auto blogger's 'Best of' lists, and 2020's iteration stands to be no different than previous models.
Currently in the middle of its second generation, the latest Audi R8 is expected to receive a minor face-lift. The 2020 Audi R8 is expected to receive a sweeping range of improvements from interior bells and whistles to exterior styling. If you compare the 2019 model of the Audi R8 to the version to be released in 2020, you'll immediately notice a difference with the front and rear design. While still the angular and sleek performance car that Audi drivers have come to expect, the German automaker has smoothed a lot of the edges creating a style that is certainly breathtaking.
The peak performance of the 2020 Audi R8 is expected to come from the equipped 5.2-liter V10 engine that has earned so much praise in the past. On the other hand, the entry trim level of the latest Audi R8 is slated to sport a 2.9-liter V6 engine with dual turbochargers, which is currently in the Audi RS5, offering the vehicle 444 horsepower and 443 lb-ft worth of torque. While these numbers are sure to change for the 2020 Audi R8, you can undoubtedly expect a thrilling driving experience from start to finish.
While we may not have this 2020 Audi for sale quite yet, you can get a taste for this incredible performance car by test driving the current year's model. Our team of auto professionals at Audi of Huntington is here for you and all your automotive needs.