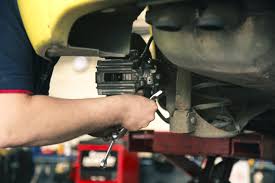 Something you always need to keep in mind for your vehicle is regular maintenance. Audi of Huntington is here to help whenever you need winter maintenance, so schedule your appointment today!
Whether you drive an Audi SUV or another style, automotive maintenance is imperative, especially during the winter months. The last thing you want is to find yourself with vehicle woes when the temperatures dip down in the winter, so having your Audi serviced is always a good way to stay ahead of the game. We have a team of factory-trained technicians working in our Audi service center at Audi of Huntington so you know that you have the best team on your side to keep your vehicle in great shape.
The following are just a few of the areas that our local Audi Long Island dealership can help you out:
Fluid Check – All of the fluids in your Audi A6 are critical for optimum performance. We can take a look at your anti-freeze, oil, brake fluid, and power steering fluid to ensure that everything is at the appropriate level.
Tire Check – You know that tires are elemental for everyday driving, but the winter poses a unique set of circumstances calling for ample tread for additional traction. Our technicians can make sure you have enough tread, that your tires are inflated properly, and that there is no damage such as cracking or bulging. We are also happy to rotate your tires for you or have a new set of tires mounted and balanced so that you can get back on the road.
Wiper System Check – Winter weather brings a great deal of road grime from salt, slush, and sand. Having a wiper system that is in tip-top shape helps you to ensure your windshield stays nice and clear. We can check your reservoir, the connections, and replace your wiper blades, if necessary.
Set up your winter maintenance appointment by using our convenient online service scheduling form or stop by to see us in person. Audi of Huntington is located in Huntington Station, NY at 363 E. Jericho Turnpike.