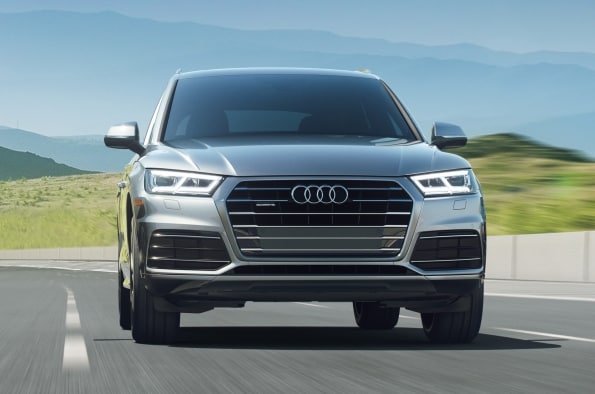 Right now at Audi of Huntington, we've got a fantastic selection of 2019 Audi models for sale. However, if you're thinking that it's about time to start shopping for a new vehicle, you're in luck. That's because we'll soon be able to offer the upcoming and refreshed 2020 Audi Q5, the automaker's best-selling crossover.
So, we thought we would cover some highlights of the new 2020 Audi Q5 coming soon to Huntington Station, NY. Back in 2016, the automaker unveiled the second-generation Audi Q5, which means that it's about time for a slight refresh. Here, we'll break down what's new.
While many of the photos we've seen up to this point show a camouflaged Audi Q5, we've been able to get a pretty good idea of what's new. It seems the new Audi Q5 features new headlights, a redesigned grille, new front bumper with redesigned air intakes, as well as a new look to the rear.
When it comes to power, we expect to have several options. The photographed model being tested uses a 2.0-liter turbocharged four-cylinder engine and an electric motor that puts out a total of 367 horsepower and 369 lb-ft of torque. In addition, we expect the other previous engine options to carry over such as the turbocharged 2.0-liter four-cylinder engine that renders 252 horsepower and 273 lb-ft of torque.
As for the interior, the automaker has recently given us a look. From what we've seen, the new cabin is similar to the redesigned one found in the upcoming 2020 Audi A4. It features a larger 10.1-inch display, a new gear shifter, and more.
As your nearby Long Island, NY Audi dealer, we're extremely excited to be soon able to offer you 2020 Audi models like the 2020 Audi Q5. In the meantime, be sure to visit us for all your other Audi model needs like expert Audi service in Huntington Station.