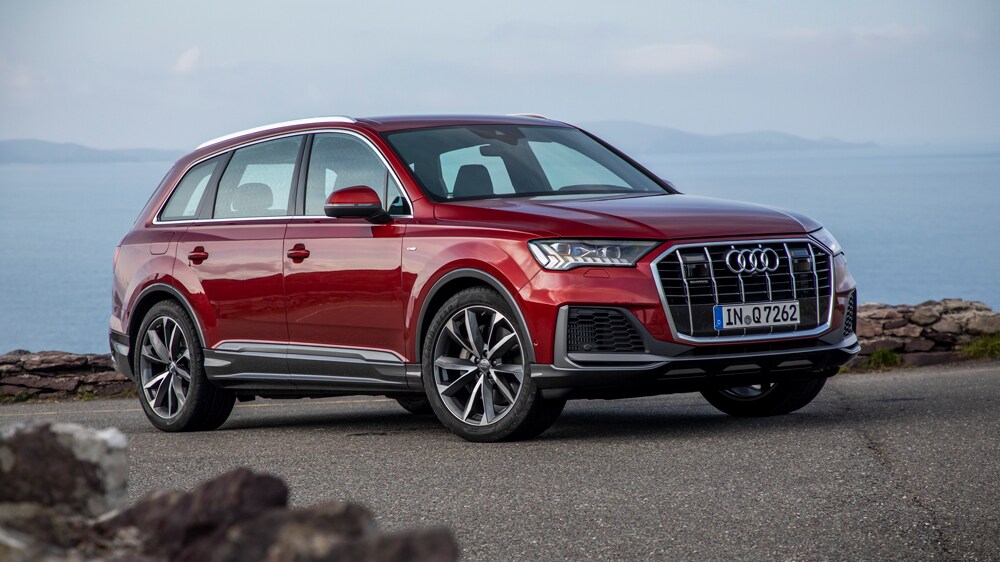 For luxury cars that are intuitive and elegant, look no further than Audi of Huntington. Our dealership carries new Audi cars that have those qualities in all different body styles, from sedans to SUVs.  If you are picturing yourself in a vehicle that is comfy, spacious, and streamlined, discover all that the 2020 Audi Q7, a midsize three-row SUV, can do.
2020 Audi Q7 Details
The 2020 Audi Q7 is heavily refreshed with major changes from the inside out. The interior is a bit larger, along with more space in the center console. There is also two touchscreens for the infotainment system that have been streamlined into the dashboard. Heated leather seats have become standard, which is a must in frigid East Coast winters. 
As for the exterior, the styling has taken on a new life with a more athletic look, which is reflected in the grille that sports vertical slats and wider side openings. With the side air intakes becoming vertical, the headlights on this model have also been reshaped into a longer and more streamlined form.
Soon to arrive at your Audi Long Island dealer, this SUV comes in the three different trims of Premium, Premium Plus, and Prestige. For now, the 2.0-liter turbo engine comes standard, capable of producing 253 horsepower and 273 lb-ft of torque.
2020 Audi Q7 Safety and Special Features
Not only are the interior and exterior revamped, but there are also new safety additions to the 2020 Audi Q7. The available adaptive cruise assist helps you during long drives by maintaining speed and following distance, and keeps your vehicle in its lane. The standard emergency assist brings the SUV to a stop and goes into emergency mode if the driver is inactive. Also included is front and rear park assist, which uses sensors to inform you of your surroundings. This allows you to park smoothly and comfortably.
New to this year's model are two touchscreens. The upper screen will be home to most of your settings, as the lower screen only controls climate and drive. You also will not have to drop everything with the hands-free tailgate that can be released or closed with just the sweep of your foot under the rear bumper.
Buying a 2020 Audi Q7
You will be able to experience the performance of the 2020 Audi Q7 later this year at your Huntington Station Audi dealers, located at 363 E. Jericho Turnpike. Feel free to contact us with any questions about this model before it makes its debut. We promise this crossover will be worth the wait.